I understand it's almost the end of summer, but there's always next year.
We have discovered a few little known facts about the Indiana National Lake Shore.
From the National Park Service website http://www.nps.gov/indu/planyourvisit/accessibility.htm ...
"The major sites in the park are accessible with assistance. The West Beach Bathhouse, the Paul H. Douglas Center for Environmental Education, and the Dorothy Buell Memorial Visitor Center are fully accessible by wheelchair. Accessible parking and restroom services are available throughout the park. A standard wheelchair is available for loan at the Paul H. Douglas Center.
Indiana Dunes has made significant achievements in providing access to beach areas. However, access to the waters of Lake Michigan pose challenging accessibility problems. Presently, these beach areas are accessible: West Beach, Lake View Picnic area, Dunbar Beach, and Porter Beach."
I have since found out that the lift at Lake View Picnic area has been abandoned due to numerous maintenance issues. West Beach has a ramp down to the beach and offers two beach wheelchairs for use on the sand. To request these chairs, call the Dispatch Center at 219-395-8640 or ask the booth attendant at the gate entrance. Driving directions to West Beach can be found
here
.
Another fun fact...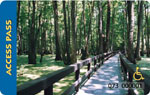 Access Pass
"America the Beautiful – National Parks and Federal Recreational Lands Pass– Access Pass - Free (replaced the Golden Assess Pass)
This is a lifetime pass for U.S. citizens or permanent residents with permanent disabilities. The pass can only be obtained in person at the Dorothy Buell Memorial Visitor Center or other federal recreation sites where it is accepted.
The Golden Access Passports will continue to be honored according to the provisions of the pass. Only paper version of the Golden Access Passports may be exchanged free of charge for new plastic passes.
Additional information on Access Pass"
I have heard that Washington Park in Michigan City, Indiana has a lift, yet I have not had a chance to look into that beach. I will update this page as soon as I find out more.
Have fun at the beach!
Joe